by Karen Laberee
How does a workplace encourage so many of its employees to bike to work? If you're the BC Ministry of Health, it's helpful to have someone like Eleanor Kallio on staff. Eleanor attended the Pro Walk, Pro Bike conference when it was held in Victoria in September 2004. It was there that she was further inspired to share the benefits of biking to work –increased physical activity and stress reduction, the reduced greenhouse gas emissions and use of fossil fuels, and less congestion on our roadways. Not to mention, it's often far more enjoyable and convenient than driving! Now she has the practical experience – and demonstrated success - that is a perfect guide for agencies who want to promote bicycling and active transportation for employees. Her recipe for success has three parts: 1) making a plan; 2) working with a great team; and 3) providing inspiration. The results for the Ministry of Health go beyond the benefits of increased bicycling, they also include team building that is beneficial to many aspects of the Ministry of Health's operations.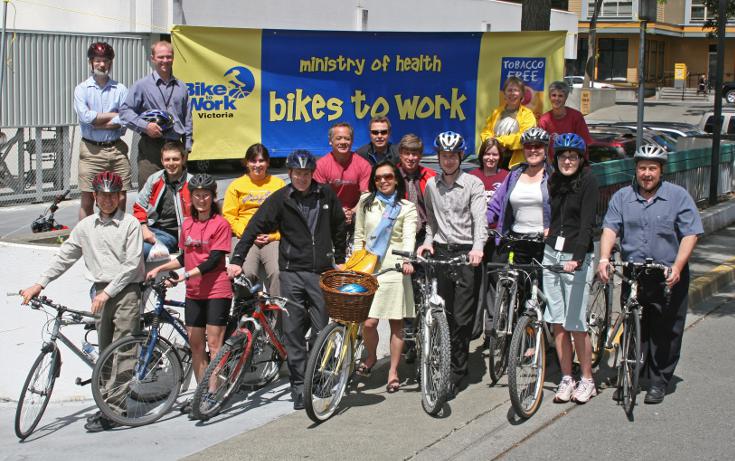 Making a plan
The conference gave Eleanor the vision for how Bike to Work Week, held in May each year, could really be "so much more" at the Ministry of Health. She got ideas on how to increase participation and was inspired to make the Ministry a role model for supporting active transportation. Practically, this meant taking on a leadership role and developing a strategy that included a budget, a communication plan, and a schedule for the weeks leading up to the event each year. With the support of the Ministry's Healthy Workplace Committee and assistance from a co-op student, Eleanor's plan to grow the Bike to Work Week participation was under way.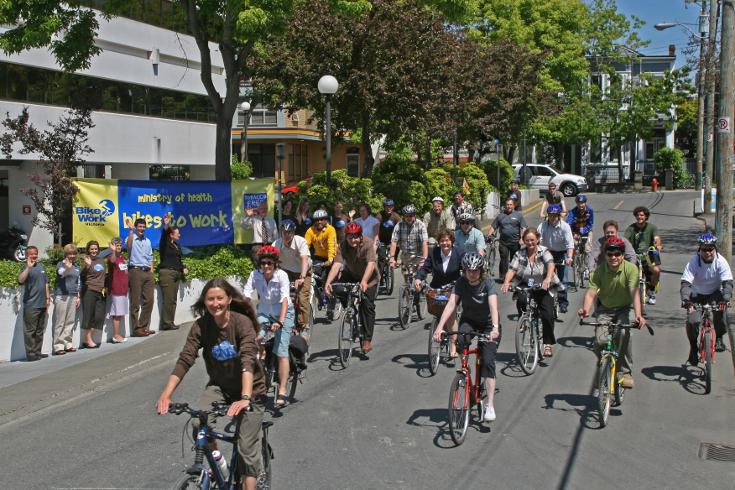 Working with a great team
It should be noted that Eleanor was not starting from scratch, and her success can be attributed to working with a great team. There were already Bike to Work Week captains in place at the Ministry of Health and she turned to them for support and additional ideas to grow Bike to Work Week participation. She advertised for additional volunteer captains in areas of the Ministry that did not yet have any in place and she organized a planning meeting to solicit ideas from everyone. In the weeks leading up to Bike to Work Week, she sent regular communications to team captains in order to motivate and keep the energy up. Many of the team captains enthusiastically took on added responsibilities such as organizing a Snack Station and creating Profiles of cycling role models of various staff members.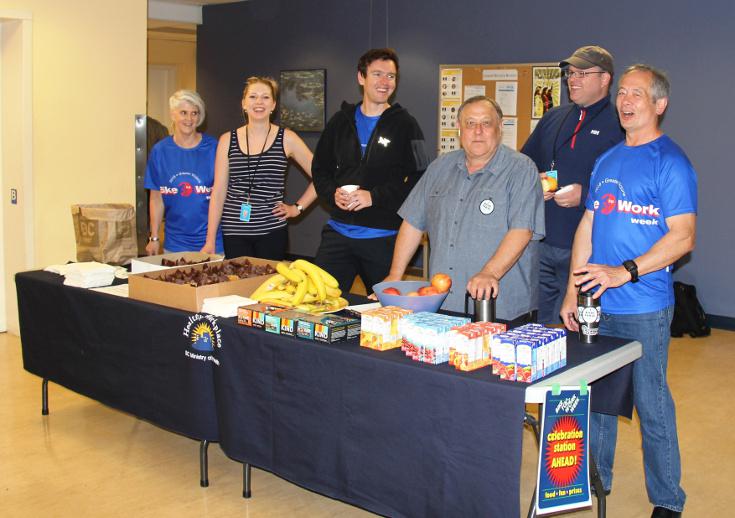 Providing inspiration
Eleanor and her team's efforts include a variety of events to inspire and motivate people to join the fun of bicycling to work. They organize a coffee session to share resources and support new riders. Their snack station could be mistaken for a marathon cheering station. Within Bike to Work Week emails shared throughout the agency, they profile various cyclists from across the Ministry to offer inspiration for incorporating bicycling to work into their lives. One of the favourite events that Eleanor has spearheaded over the past three years is a bike raffle. Raffle tickets are sold to win a bike each year and the proceeds go to Kidsport Victoria. Other events have included lunchtime group rides and lunch and learns.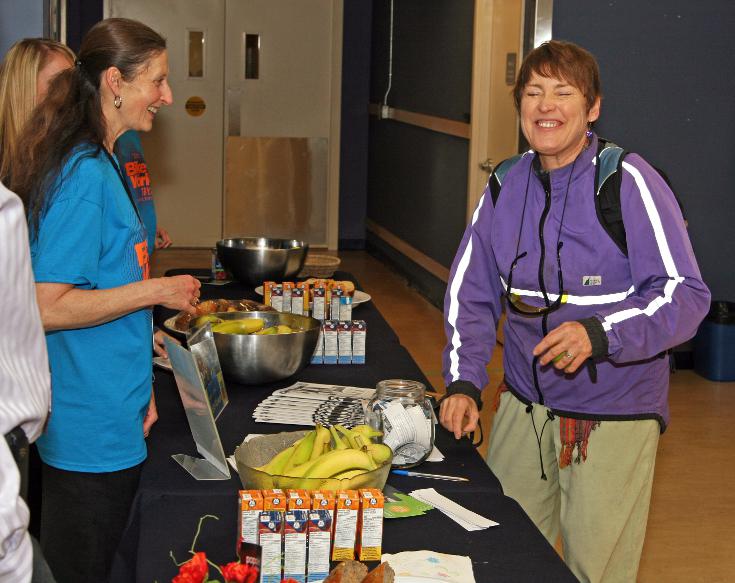 Getting results
Participation in Bike to Work Week at the Ministry of Health has grown considerably since Eleanor's efforts began started back in 2005. Participants have increased from 92 to 186, and there are now over 20 volunteer captains or supporters and 12 different workplace teams. They've expanded their bicycle parking to three times its size and added racks for helmet and lock storage. Biking to Work is not only a way for Ministry of Health employees to lead by example, but it's become a tremendous team building activity. Having achieved so much enthusiasm for biking to work at the Ministry, Eleanor is now mentoring others to take over the lead in many aspects of the Ministry's Bike to Work Week activities and events. She is also very keen to see other workplaces adopt some of what she's learned over the years.