On the second day of holiday BikeMapping… Major roads.
On the second day of Holiday Bike Mapping, we invite you to map scary bike infrastructure. Let's add the number of lanes and speed limits to major roads that are presented as safe places to ride. We will map disappearing infrastructure at choke points, and debris strewn painted lanes.
Motivated by a visiting colleague's recent perilous ride through Vancouver, we ask you to map places in your city, or a city you visited, that are terrifying to ride, despite having infrastructure. We are sorry to hear about these experiences, and we reflected on how this might have happened.
For example, Main Street in Vancouver is a six lane road with faded sharrows, and while some people may choose to ride there (people certainly have a right to ride there on a public road, if they choose), we think people should know what they are getting into. You shouldn't need local knowledge to pick a safe route using widely available tools. Google Maps actually lists South Main Street as a bike-friendly street. The street is also listed as legacy bike infrastructure in Vancouver's open data. The location has high betweenness-centrality (to get between many points in the city, you have to squeeze between the water and the train tracks and there are only a few roads going through there), so that might contribute to why some routing algorithms are sending people to ride down Main Street during evening rush hour in the rain!
Screen Capture from Google Maps on December 12, 2022. Main Street is mapped as a "bicycle friendly route".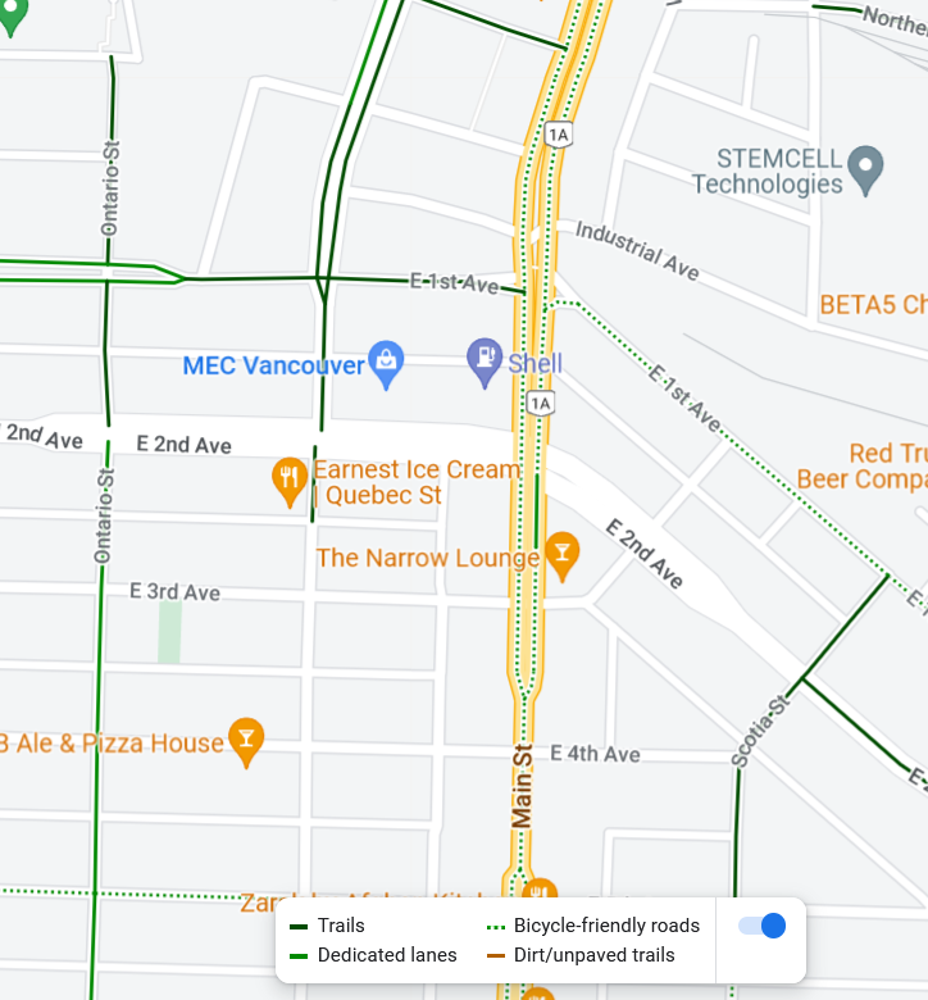 On OpenStreetMap, Main Street is well-attributed since it is mapped as a primary road with six lanes, a 50 km/h speed limit (not that anybody follows it!), and a shared lane for bikes. Given that information, some people may chose a different route. On OSM Can-BICS it's mapped as a non-conforming major road. This helps us for safety studies because we can study what types of incidents happen at places like these. Other tools that use level of traffic stress calculated from OSM data will also take this into account and assign weight in routing algorithms.
For today's mapping challenge, check the OSM Can-BICS map check that major roads are mapped as "non-conforming major roads", that they aren't missing, and they aren't misclassified as "local street bikeways".
Non-conforming major roads have officially designated infrastructure that is not physically separated from traffic (sharrows or painted lanes) and meet any of the criteria below:
speed limits above 30 km/h
absence of traffic calming or diversion
more than two lanes